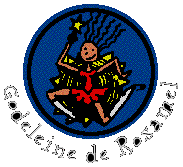 Godeleine de Rosamel, a french illustrator born in 1968, is living and working in Paris.
---


---
By clicking one of the above icons, or a title down here, you will find a serie of collage. Each one is connected to another. By choosing your link, you will be able to reconstruct everybody's "everyday life", with a little bit of magic. Just try to imagine this could be no more than reality.
---
Quelle belle journée!
What a beautiful day!

J'ai attrapé un maquereau.
I caught a maquerel.

Je bronze un peu rouge.
I tan a bit red.

Il y avait le ciel, le soleil et la mer...
There was the sky, the sun and the sea...

On the road again.

J'adore ta cuisine jaune.
I love your yellow kitchen.

C'était bien.
It was good.

Mais papa, c'est l'heure des tortues Ninja.
But daddy, it's time for the Ninja turtles.

Mâche tes coquillettes.
Chew your noodles.

C'est pour ton bien.
It's for your own good.

But!
Goal!

Regarde-pas mes mains, c'est la vaisselle.
Don't look at my hands, it's the dishes.

Où sont les étoiles?
Where are the stars?

Bon voyage les amis...
Have a good trip, friends...

Coucou les étoiles.
Hello stars.

Et chez toi, ça va?
Everything all right?

C'est dans l'espace que tout se passe.
It's in space that all happens.
---
Remember that your journey won't be complete until you've sent a message to Godeleine:
(e-mail: info@magic.be)
You could also try to meet her on your next trip to Paris
at the Café Orbital.
---
Use the Godeleine icon

to come back to this page.
---