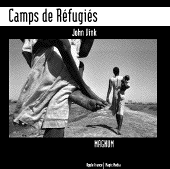 CD-ROM Mac with 6Mb memory and a 13" 256 colors screen.
---

For more than 12 months spread over a period of 5 years, John Vink took pictures of refugees in camps all over the world. Wherever he was, he lived with the displaced people, in Africa, Central Europe, South America,...

more than 300 black&white photos accurately scanned for best vision on screen.
interviews with Rony Brauman and John Vink, wittnesses of members of MSF France and MSF Belgium, and of Handicap International.
60 minutes of ethnic musics, 40 minutes of audio comments, video interviews, maps,...
a simple and flexible user interface with various hypermedia facilities.
Produced and developed by Magic Media.

Edited and distributed by Apple France with the support of the Centre National of Photography, Paris.

For information on how to order "Camps de Réfugiés", contact Jean Robberecht of Apple France at ROBBERECHT1@applelink.apple.com.