-

>>
-

In the scope of the MODE2001 fashion event, artist Frank Theys stepped into the mind of a fashion designer of electronic alter ego's. He created a parade of video generated creatures on a 360° catwalk around three spectators. To every person an avatar is connected that obeys to the person's head movements.

MUTILATE? Exhibition:
Museum of Contemporary Art (MUHKA)
Leuvenstraat 32, 2000 Antwerp
26th May - 7th October 2001

-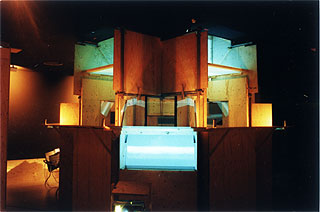 external view of installation
-

>>
-

AVATAR examplifies new possibilities
for interactive installations.
Magic Media developed and integrated two main technologies, Immersive Display with living objects and Motion Tracking, opening new possibilities for designing public installations and new media environments (for museums, art projects, exhibitions,...).

The AVATAR @ MUHKA installation is currently attracting more than 500 visitors a day who wear the hats and play with the avatars creatures. Many more visitors just walk around the sculpture along the catwalk to see the parade of creatures and the people controlling them inside.
-

>>
-

Immersive Display + Living Objects
Magic Media developed a 360 degrees display system based on a network of 8 computers controlling 8 Sony data videoprojectors. The software controls the animated creatures which seamlessly move, walk or run around the users providing a perfect immersive environment. Sound also is spatialised through 8 loudspeakers.

The Immersive Display is highly flexible and scalable: in the number of machines and projection surfaces, in the set up of their geometry and topology.

Audiovisual objects with behavior
The objects `living' in the Immersive Display are objects with audiovisual appearences and completely programmable behaviors.

-

>>
-

Motion Tracking
Avatar creatures react according to users' head movements. For tracking these, Magic Media designed and developed a special motion tracking system based on near infrared video cameras and hats with simple electronics.

Again because of the networked and modular architecture, other types of sensors could be integrated with the Immersive Display to set up different interaction scenarios between users and the Living Objects.

Contact :
Yves Bernard

-

>>
-

Concept, realisation, images :
Frank Theys
(Editing Studio: Votnik)

Engineering and development :
Magic Media (Y. Bernard, E. Lestienne)

Scenography and realisation of the installation :
Central (B. Leysen and D. De Jonghe)

Sound Design :
Missfit (Arnaud Jacobs @ FYKE facilities)

Production :
Antwerpen Open (Bruno Verbergt) with A Prior (Kurt Van Belleghem) for MODE2001 LANDED-GELAND

-

>>
-

Hardware :
- 12 Mac G4 computers, 1 G3, 8 Sony videoprojectors, 3 IR cameras, 6 magic electronic hats; 3 tons of plywood, mirror and glasses,metal tubes.

Support :
the MUHKA Team (Bart Baes and al.)

Pictures Credits :
Xavier Ess and J-M Panis from Cybercafe21@RTBF for the video stills; photos and technical sketches by Yves Bernard.

Contact :
for exhibiting AVATAR, e-mail to Frank Theys