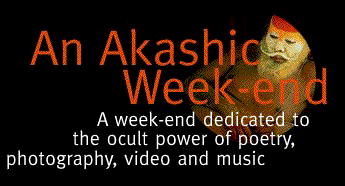 Akashic from the Sanskrit Akash - Towards the shining [manifestation], etheric, sky speech, the hidden meaning of the hidden meaning, the Psychic Keep, the unwritten history of humankind - past, present & future, God's Book of Remembrance, the Universal Radio, the Subliminal Cassette, the Cloud Doctrine, Diaries of the Radar etc.
Ira Cohen [sound 64K]
The words of the traveller poet mixed with the organic sounds of the sculptor musician embrace the cut-up images of a cut-up shaman. What is hidden behind the word, behind the sound, behind the image? What we don't know, what we don't see, what we don't hear...unless we accept to submit our reason to the voice of the unknown.

Philippe Franck (TRANSCULTURES)
Who?
(poetry reading, photography)
(alto and baritone saxophone)
Where?

PLATEAU* Rue du Berger 30 (metro Porte de Namur) 1050 Brussels Belgium
Tel/fax: 32 (O)2 514 52 07
Saturday the 16th and Sunday the17th of December 1995
What?

Saturday:

- 20:00 : Opening

Ira Cohen's photo show (a selection of psychedelic Mylar Pictures and black & white portraits)

Burroughs Vertical?, a `voodeo' installation of HÄnzel & Gretzel (who pretend to kill the great beat survivor by the black magic of video)

- 21:00 : Performance

Non-Euclidian solos : Eric Sleichim opens the evening interpreting some of his recent compositions for solo saxophone.

In the Akashic mirror : Ira Cohen reads a selection of his poetrywith Eric Sleichim improvising. During the performance, a 20 minute long video - Curfew - reflecting the world and vision of the poet/photographer especially conceived as a visual decor by "Hänzel & Gretzel" will be shown for the first time in Belgium.
[sound 300K]
Sunday:
- 15:00 : Rendez-vous...

... with Ira Cohen who will introduce to the audience his Akashic Foundation, a recently formed association (Paul Bowles, Gerard Malanga and Judith Malina are - among others - on the board) to preserve and promote the works of insolite/occult/alternative writers, filmmakers, photographers and interdisciplinary artists.

...with "Hänzel & Gretzel" + projection of a selection of "H&G"'s short videos.

Interviews conducted by Edith Doove and Philippe Franck.

The exhibition will continue until 22:00.
The Akashic Week-end is curated by Edith Doove (Plateau) & Philippe Franck (Transcultures)



*PLATEAU is a laboratory for contemporary artists created in Brussels by Ida Devos (dancer) and Trudo Engels (plastic artist) in the end of the 80's. It offers a dance program, contemporary music concerts, video & film screenings and plastic arts exhibitions. Plateau also receives other companies that can use its space.